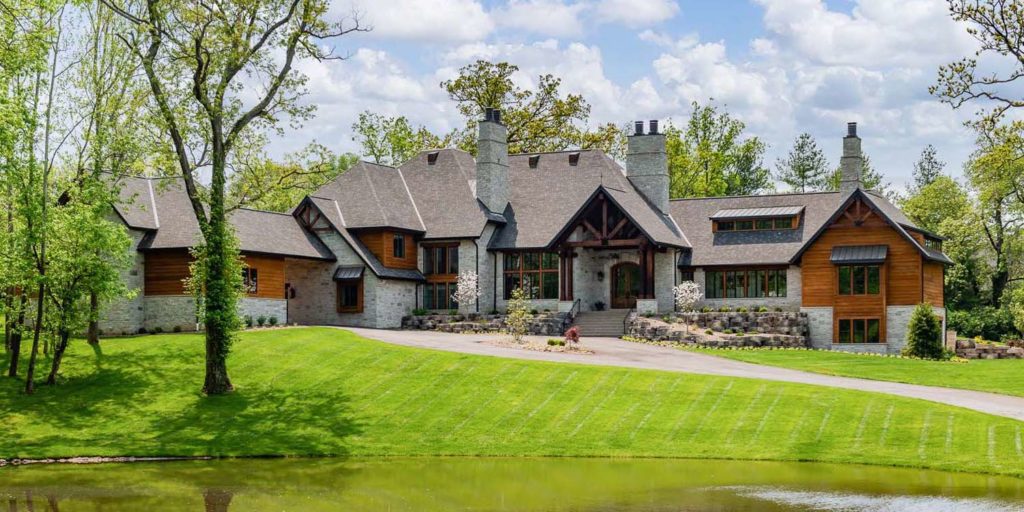 Luxury home architecture and design require attention to detail in every facet, inside and outside. The exterior elements create a beautiful, functional, and comfortable living space. Whether you are building your dream home or looking for inspiration to upgrade your home in the future, our comprehensive guide, combined with our professional architectural design phases, will help you achieve the pinnacle of luxury home exterior design. From high-end materials and finishes to creating inviting outdoor living spaces, selecting the right color scheme, adding architectural details, and ensuring security without compromising curb appeal, discover how to ensure all facets of your home provide the luxurious look and feel you want.  
What is Exterior Luxury Home Architecture?
Before discussing the details, we must establish what luxury home exterior architecture means. Luxury architecture is more than functionality. It encompasses exquisite craftsmanship, meticulous attention to detail, and a seamless fusion of art and functionality. Modern luxury house design is about creating spaces that cater to your needs and elevate your lifestyle to new heights.
Envisioning luxury home exteriors requires harmoniously integrating modern design with timeless elements that exude sophistication and luxury. Styles vary widely, from contemporary designs emphasizing clean lines and minimalism to more ornate traditional styles incorporating intricate detailing and classical motifs. The key is creating a visual narrative that resonates with your taste while complementing the overall architectural concept. 
Creating Luxurious Curb Appeal
Curb appeal is more than just a real estate buzzword; it's a critical aspect of luxury home design that sets the stage for what visitors can expect beyond the front door. Your home's curb appeal is your opportunity to make a first impression, acting as a reflection of your lifestyle. When aiming to create a luxurious exterior, consider the following: 
Luxury outdoor living spaces: Take your thinking beyond the walls of your home and extend your living space outside. To create a luxury outdoor living space, incorporate outdoor lounges, dining areas, and entertainment areas that seamlessly blend and integrate with the surrounding landscape. 

Luxury exterior design ideas: Research and explore design concepts that resonate with your vision. Incorporate luxurious elements like statement entryways, grand driveways, and elegant pathways.
High-End Materials and Finishes
The materials you use on and around your home play a pivotal role in defining the luxury of your home's exterior. Choose high-end building materials that portray luxury and can stand the test of time. Materials such as natural stone cladding and premium wood finishes create a lasting impression, visually and in longevity. There is also a growing emphasis on responsible architecture, so consider sustainable and eco-friendly options that still provide the luxurious look and feel you want in your home while showing environmental responsibility. 
Careful Selection of Windows and Doors
Windows and doors are essential for home functionality, but they also act as architectural features that contribute to the overall charm and luxurious feel of your home's exterior. When choosing an entry door, consider grand, statement-making designs that complement and reflect the overall design theme. Windows should balance aesthetics and energy efficiency with a placement that strategically incorporates natural light.  
Balconies, Terraces, and Rooftops
Imagine indulging in your morning coffee on a scenic balcony or hosting gatherings on a rooftop garden with panoramic views. Maximizing your outdoor living spaces is a hallmark of luxury home design. Luxury decks, balconies, terraces, and rooftops provide the perfect backdrop for creating an outdoor oasis that seamlessly connects you with the environment while offering unparalleled comfort and style. 
Landscaping Elements
Landscaping is the ultimate finishing touch that elevates the outdoor amenities for luxury homes. Installing carefully curated outdoor lighting enhances elegance and safety. Water features, such as fountains or waterfalls, create a sense of tranquility and harmony. To enhance the overall atmosphere, you can also frame outdoor entertainment spaces with custom-designed pools, patios, and lush greenery.
Selecting the Right Color Scheme
Color selection is essential for creating the right aesthetics for your home, but it's much more than that. The use of color is a psychological tool that can be used to influence emotions and perceptions. The exterior palette for your luxury home should strike a balance between bold choices that make a statement and elegant shades that convey sophistication. Ensure whatever colors you choose harmonize with the surrounding landscape and highlight your home's architectural features.
Add Architectural Details and Accents
Incorporating intricate architectural details into your luxury home's exterior is like adding jewelry to complete your ensemble. Elements like balustrades, columns, moldings, and decorative motifs can transform a simple facade into a true design masterpiece. Such architectural details and accents add character, depth, and timeless elegance to your home.
Consider Security
Luxury is mainly centered around aesthetics and comfort, but when creating a luxury home, it's essential to prioritize security. Security for a luxury home takes more careful planning to integrate the necessary elements without compromising the overall aesthetics. For instance, smart surveillance systems and discreetly designed entry barriers should be incorporated seamlessly into the design. This creates a secure environment that blends seamlessly into the design.
How to Hire the Right Luxury Architectural Professional
Creating a luxury home is a collaborative process involving architects, landscape designers, contractors, and more. When selecting a luxury home architect, consider their portfolio, experience, and compatibility with your vision. Collaborate closely with professionals who understand your aspirations and ideas and can translate them into an architectural masterpiece that integrates your interior and exterior design seamlessly. 
Create Your Luxury Home with Schaub Projects Architecture + Design
Crafting a luxury home exterior is a multifaceted endeavor that requires a keen eye for detail, a flair for aesthetics, and a dedication to quality. Each decision contributes to your dream home's overall luxury and sophistication, from selecting high-end materials to integrating outdoor living spaces and architectural entails. Explore your creativity and bring your luxury exterior ideas to life. 
When you are ready to embark on the journey of creating your luxurious home exterior, partner with Schaub Projects Architecture + Design. With our wealth of experience in luxury home architecture, we specialize in turning dreams into reality. Contact our team today to discuss your project and take the first step toward creating a luxurious, captivating exterior that reflects your unique style and vision.